RS Center distributes and installs the products of Liteblox.
LITEBLOX – THE (R)EVOLUTIONARY AND PROBABLY LIGHTEST STARTER BATTERY IN THE WORLD
LITEBLOX high performance lightweight batteries – the product of our profund knowledge in the field of lightweight engineering plus know-how on sales & service of lightweight car batteries in motorsports. Consistently engineered as a starter battery for combustion engines on the principle "quality over quantity", our lightweight LITEBLOX batteries offer decisive advantages over common competitor products: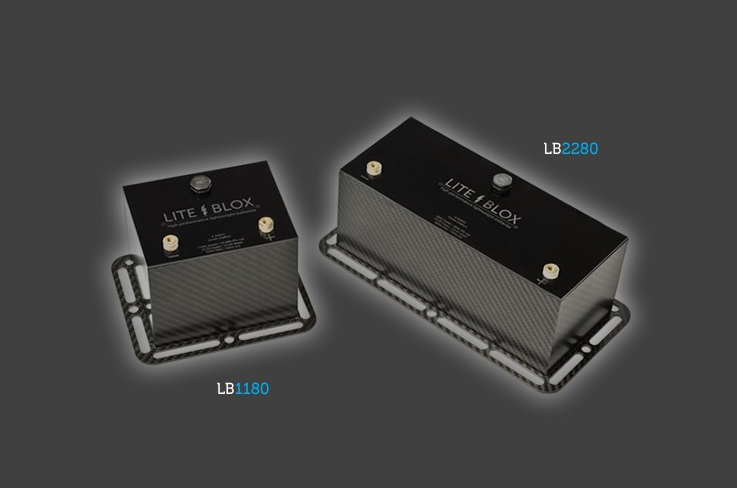 Weight saving of 13-25 kg, compared to standard lead-acid batteries (usual invest: 1000 Eur per 10 kg in Motorsports)
Plug&Play substitution for the standard (OEM) car battery
Intelligent electronics, mounting bracket & battery pack in one system
Improved safety trough thermal cutoff fuses, temperatur sensor plus innovative, acoustic deepcharge / overcharge protection
Innovative NFC-interface for surveillance, diagnostics and remote maintenance in realtime
In-house development & manufacturing by hand
Extensive customer support (technics, maintenance, service)
Extended protection for the LiFePO4 battery cells trough our innovative housing concept, shielding on direct heat (engine), vibration (road) & impact (crash)
Maximum safety –> Save cells with overpressure valve – assembled by German Manufacturer (ISO9001)
Enhanced capacity & performance –> Typical cranking car engine 400-900A peak@~1ms
Best cold cranking performance –> Latest LiFePO4 cells (A123 ANR26650M1B V3)
High current cells with extended power & lifespan –> Typical cranking car engine: 400-900A peak @ ~1ms
VERSATILE

Replaces the standard battery plug'n'play
Three performance versions
Works with standard alternators
Mountable in any Position
Usage for various applications on ground, water & sky

INNOVATIVE

More performance by less weight
Versatile with integrated mounting bracket
Maintenance-free trought intelligent electronics
Integrated diagnostics
Tested in professional motorsports

SAFE

Save LiFePO4 technique, no fire hazard
Housing thermally & mechanically decoupled
Housing works like a safety tank
Acoustic deepcharge / overcharge protection
Thermal cutoff fuse

ECOFRIENDLY

3-5x higher lifespan than lead-acid batteries
Housing reusable
High recyclable cells
Acid & heavy metal free
Saving weight = saving ressources
Please inquire with the required details as vehicle data, alternator capacity and previous battery size (Ah & A).